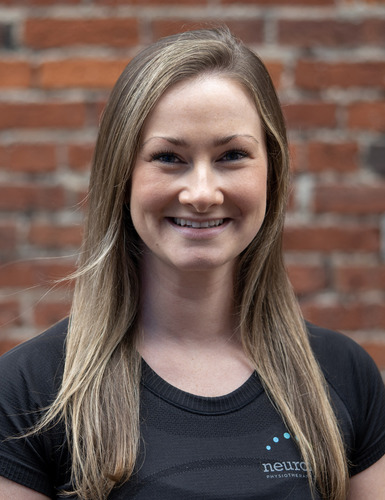 Registered Interim Physiotherapist
MScPT, BSc Master of Science – Physiotherapy Bachelor of Science – Combined Biology & Psychology
Level 1 Manual Therapy Certification – National Orthopaedic Division, Canadian Physiotherapy Association
PWR! Certified Therapist
Kate graduated with distinction from the University of Victoria with a Bachelor of Science in Combined Biology and Psychology. During her schooling, Kate volunteered at MOVE Adapted Fitness and Rehabilitation Society of B.C. – a non-profit organization dedicated to making physical activity and exercise accessible to individuals who may need additional support and adaptive equipment. Kate volunteered at MOVE for nearly 4 years and was immediately drawn to neurological rehabilitation. She began also volunteering at the Victoria Epilepsy and Parkinson's Centre with chair-based exercise classes. Upon graduation, Kate joined the Neuromotion team as Office Manager and Physiotherapy Assistant for 2 years prior to attending the University of British Columbia to complete the Master of Physical Therapy program. Kate is thrilled to now once again be part of the Neuromotion team as a physiotherapist.
Kate has clinical experience working with both adults and children with a wide variety of neurological conditions and is passionate about rehabilitation throughout the lifespan. Continued education has consisted of completing the National Orthopaedic Division Level 1 Manual Therapy certification, and coursework in Supporting Individuals with Autism in Health Care through the Canucks Autism Network. She continues to pursue further training through the Neuro-Developmental Treatment Association. Kate believes in empowering individuals through movement to achieve healthy bodies and healthy minds. Kate will work with each client and family to help guide their individualized treatment, maximize their functional abilities, and achieve their unique goals.
Born and raised in North Vancouver, Kate enjoys exploring the outdoors through running, cycling, snowboarding, and camping. Kate grew up as a highly competitive dancer, travelling to Spain and Africa to represent Canada and dancing in performances for the Vancouver 2010 Olympics. On rainy days, you can find Kate trying to learn a new language or sitting down to enjoy a good book with a warm cup of tea.